Since I've made my site, I've never been quite happy with how my images have been laid out. Now, I'm taking action! Over the next few days, you may notice some changes to how I setup the galleries on my site - the biggest changes will be on the Sports and Portraiture and Events pages. Let me know what you think of these, advice is always appreciated!

In other news I've been fairly busy since getting back to school, both with academics but especially with the photography which is good! I'll try to keep updating, but you may also see more updates about my work from other pages that I worked for. Also stay tuned for a big announcement soon!
Powered by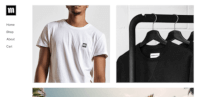 Create your own unique website with customizable templates.